What can you do for your website's SEO today?
SEO Buddy provides 102 SEO actions that you can take right now. This in-depth checklist goes into far more detail than your average free SEO checklist, however.
After reviewing the checklist and other multiple guides included, there are some definite benefits to using this in-depth SEO bundle. Not only does it include a checklist, but you also receive a 52-week content calendar and other marketing guides that will be invaluable to DIY marketers, entrepreneurs, start-up blogs, and even larger businesses. Over 40 SOPs are included that can help marketing and sales teams bring in more leads and traffic.
However, the ultimate goal of this SEO framework is to improve your rank in Google.
If your website is struggling to get on the first page for your best keywords, this checklist makes it easy to audit your website and make improvements with step-by-step guidance.
Quick Look: What is the SEO Checklist by SEO Buddy?
The 102-point SEO Buddy Checklist is part of a search marketing and website optimization bundle from the SEO experts. The checklist offers over 100 actions to take for SEO, but you'll also find step-by-step instructions for each action.
Here's a breakdown of everything I found in the SEO Buddy Checklist:
Huge 102-point checklist for all SEO actions and ranking factors
Includes on-page and off-page factors
Setup & guidance for Google Analytics, Google Search Console, Google My Business & more
Multiple guides to keyword research, tracking, and competitor research
52-week content planning calendar
50+ point content distribution checklist
Updated weekly with new guides
Recommended tools and setup guides for tracking and managing SEO performance
40 standard operating procedures (SOPs) for training
Technical SEO guidance from HTTPs, canonical URLs to Schema markup & More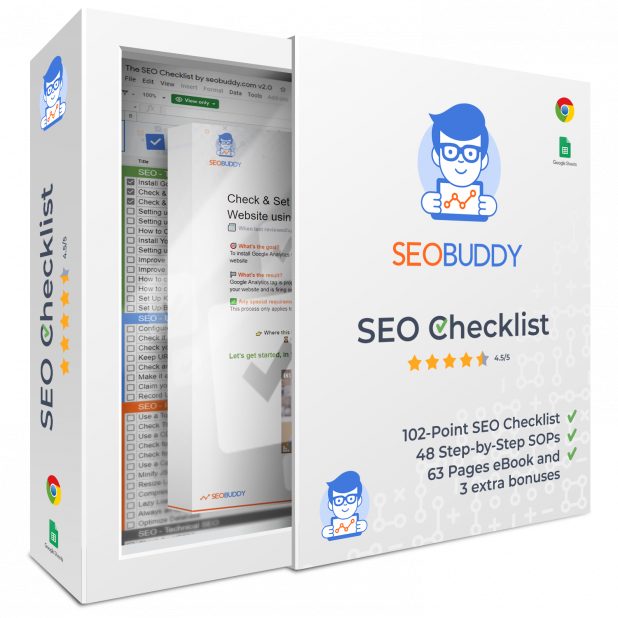 Everything you ever wanted to know is included in the bundle. You download the packet and gain access to all files, which are completely modifiable. Each SEO guide comes with detailed instructions, making it easy for beginners to get started. However, it's just as useful for advanced marketers already working in SEO as it's constantly updated for the latest Google algorithm changes.
Advantages of SEO Buddy
There are a number of features that you simply won't find in any other SEO guide, blog post, or checklist. It's very detailed and written by search marketers who have worked in SEO for years. The bundle is updated constantly, including fixes for Google algorithm updates that may have tanked your traffic recently.
The beauty of this SEO checklist is that the checklist covers all aspects of SEO. You'll find a guide to every ranking factor that helps your website get on the first page of Google.
However, it's also a bundle that includes other documents and templates to help individuals and marketing teams improve their SEO and optimize websites. For example, the checklist includes documents that are invaluable to your marketing strategy. For example, you'll find a 52-week content planning calendar that you can use for your website, blog, social media, and email marketing efforts for an entire year.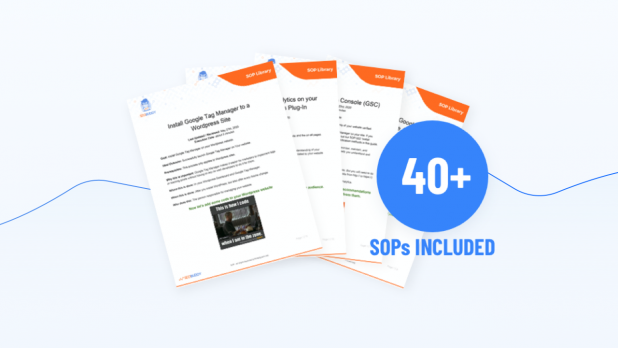 Unique Differences with SEO Buddy's Checklist
There's also Trello boards included to help you set up your tasks and maintain deadlines for a quick turnaround. Even if you are taking on an SEO project by yourself, this checklist makes you feel like an expert is by your side. If you get stuck on something, you'll likely find the answer in one of the hundreds of guides included or you can contact SEO Buddy for support.
Management and analytics tool are also included in the checklist. This will make it easier to track and monitor your rank, as well as see your SEO performance over longer periods of time.
What Could Be Improved
One thing about this checklist is that it takes time to go through. Anyone can use this checklist to improve their SEO, even if you're a marketing director looking for the latest SEO directives and strategies. However, it can be tricky to understand all of the terms at first.
SEO Buddy does a great job of providing definitions and explaining the intricate details. They are constantly adding new tips and guides to the bundle, so it's actually a better value because new information and research is provided for you.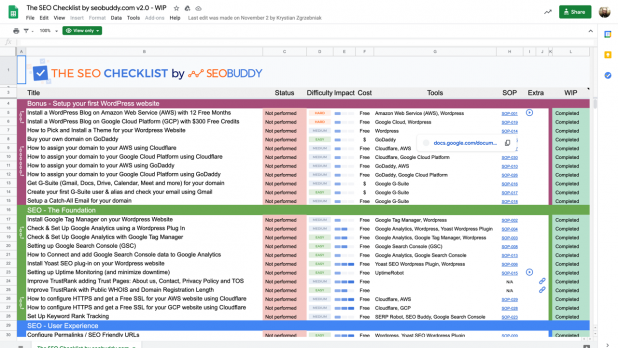 Improving Your SEO with SEO Buddy
There are several categories of SEO, from on-page vs off-page SEO factors to technical SEO. The checklist covers each area in depth. Here is a look at each area that I used to improve my website:
Technical SEO
Are you familiar with Schema markup, HREFLANG, HTTPs, canonical URLs, sitemaps, and URL structure? All technical SEO steps are covered in SEO Buddy's guides. If you want your site to have an optimal structure for ranking in Google, this section is invaluable to your business. You'll learn every markup necessary to optimize your site, while also avoiding technical glitches, slow page speed, and other issues affecting your rank.
Mobile Experience
Google has said that mobile-first websites will rank higher. It's one of the definitive factors that Google crawlers look for. The checklist includes guidance on how to improve your mobile experience and avoid penalties for issues that affect mobile users.
Content
Need to organize and plan your content? You'll receive content strategies, keyword research help, and content distribution checklists to help you easily optimize the content on your website.
Verdict: Is this the best SEO framework?
Everything for SEO in one place sounds like an amazing deal, but this only works if the guides have accurate and detailed information, which SEO Buddy does provide. It's an exceptional tool that any business can use to improve their website and start ranking up in Google.
Specially negotiated for sitepronews.com readers, you can use the discount code: SITEPRONEWS during checkout to get a 25% discount on the SEO Buddy SEO Checklist.