Some believe machines cannot possibly take over customer service. Many believe that machines lack the empathy and emotional intelligence to deliver a path-breaking customer experience, while many others see the benefit of utilizing Artificial Intelligence and Machine Learning to automate repetitive tasks. The truth is, by implementing this advanced tech, it allows employees to dedicate more time to important decision-making and creative tasks.
According to a National Retail Federation survey, almost 40 percent of retailers are using some sort of intelligent automation. In fact, it is believed that more than 80 percent of businesses will go in the same direction by 2021. Already, AI and analytics are coming up with massive improvements in quality and responsiveness by automating numerous manual and strenuous tasks.
So, what's the ideal way forward?
What is the Need for AI and ML in Customer Experience?
Numerous eCommerce websites utilize updated technology to offer shoppers a satisfying customer experience (CX). AI and ML are gaining attention as they provide several advantages at both ends. It has traversed almost every industry, beginning from smart homes and e-learning to eCommerce. In fact, machine learning and AI find their influence across significant industry domains like web design, content marketing, and others.
The best part of AI and machine learning abilities is that they help speed up complex chores in an automated manner. Machines and software setups have always assisted in accomplishing tasks that are effort and time-intensive. They are simplifying and helping employees focus on other important tasks.
Using AI and ML to Improve Customer Experience
Artificial intelligence and machine learning have come a long way to improve customer experience and satisfaction levels. Here are a few ways that is happening:
A. Better Understanding of the Customer
Acquiring data and analyzing buyer personas is getting difficult with online ordering becoming more popular. This is where AI and machine learning can come in handy. With new and improved AI marketing features like customized newsletters and automated social media posts, customers are compelled to check out exciting offers from brands.
For instance, Keen footwear uses website cookies to venture out re-engagement emails to consumers with a 20 percent discount on its products.
Unlike data analytics software, AI has a consistent learning curve. It continually delivers improved actions from analyzed data, anticipating customer behavior. Brands benefit from this feature, providing relevant content, improving sales and conversions, and enhancing customer journeys on their websites.
Even customer relationship management (CRM) platforms like Salesforce and Zoho have integrated AI within their ecosystems. This helps enhance real-time decision-making, predictive analysis, and other functional aspects to engage their customers. Furthermore, Amperity, BlueConic, and ActionIQ have also unified AI into traditional Customer Data Platform (CDP) elements to integrate customer data and provide real-time decision-making opportunities for marketers. AI provides a deeper understanding of customer demands, how they interact with websites and their satisfaction levels with businesses.
B. Real-Time Decision-Making and Predictive Behavior Analysis
Customers that are using ad blockers can be presented with alternative UI components to keep them engaged with brands' offerings. Also, with personalized recommendations, users can be presented with relevant content that will interest them in discovering relevant products or services. These are excellent examples of AI combined with real-time decision-making that can enhance customer experience on websites.
Using AI helps businesses recognize and understand a customer's intent through produced data. This helps brands to offer hyper-personalized and relevant content to consumers enriching their online experience.
Meanwhile, predictive analytics combines statistics, data mining, and modeling to anticipate consumer behavior. Being able to analyze large amounts of data in seconds, AI and machine learning produce actionable insights, guiding brands to personalize their customer interactions.
Here's a glimpse of predictive analytics being utilized in the healthcare industry. Health Catalyst has optimized its healthcare AI framework to address five levels of analytics. The brand claims that this offering has landed successful collaborations with multiple hospitals and healthcare projects.
C. Getting Your Data Organized
Every corporate system has troves of accumulated data. Machine learning combined with powerful algorithms can sort thousands of emails, documents, and graphics stored on servers and databases. AI and analytics can organize unstructured data and pre-sort them for you.
In data management, AI proves beneficial in terms of data preparation. This process involves acquiring sets of raw data and optimizing them for further processing and analysis. Data preparation is vital in helping you identify data sources, ones that may overlap, figure out where it's being used, and whether it's trustworthy.
Twitter uses machine learning technology and AI to evaluate tweets and rate them using various metrics. Google is researching several aspects of machine learning, making developments in "ranking algorithms" using natural language processing and prediction systems.
D. Making NLP Actionable & Quantifying the ROI of CX Initiatives
Combining AI with human linguistics is how natural language processing (NLP) is produced. According to this article by SAS, this branch of AI enables computers and systems to understand, interpret, and react to human language.
Natural language processing allows computers to extract keywords and phrases, analyze the language, translate that to another language, or come up with a response.
Here's a screenshot from Amazon's Alexa app that provides an answer to the question: 'Alexa, what's Inception?'
ROI measurement on ML and AI initiatives is done through the creation of a proforma. This proforma helps define key performance indicators (KPIs), have a benchmark of comparisons among data sets, and monitor campaign overtime. These key metrics are validated and updated as brands perform A/B tests and GAP analysis.
E. Leveraging 24-Hour Customer Service with Chatbot Technology
With businesses shifting to fast and efficient methodologies, chatbots have emerged as a key aspect of intelligent automation.
The most vital application is its use in automated conversations. Modern-day websites disguise these as human interactions, providing a realistic approach.
In fact, there's an increasing demand for chatbots and virtual assistants among consumers interacting with various websites. Here's a chart to demonstrate its popularity.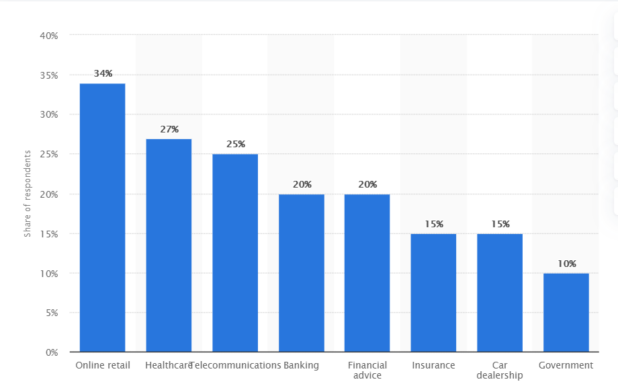 With chatbots backed by machine learning, firms are bridging the gap between customer expectations and deliverables. Using natural language processing (NLP), chatbots gauge what users are looking for. Further, with its ability to provide 24/7 assistance, organizations benefit from cost-effective round-the-clock service. They lend a helping hand to real support representatives, being trained to tasks like amending an invoice or answering basic questions about company offerings.
Take a look at this bot developed by Casper. It's available to chat between 11 pm and 5 am, serving as a companion to those with irregular sleeping habits.
F. Allowing Humans to Do What They Do Best
Quartz quotes in its article, "Automation will take away the parts of our jobs we don't like and leave room for more meaningful work."
Artificial intelligence is improving itself at automating human tasks. Barring repetitive tasks like assembling parts in a factory, AI bots are even mastering complex ones that have traditionally been the specialty of humans. It's debated that pretty soon, these machine agents will take up many different kinds of jobs and tasks.
Here you will find a YouTube video talking about the phenomenon.
However, a general-purpose AI can't truly understand users or respond with creativity and empathy. In this article by technologyreview.com, we see that AI still isn't very good at jobs requiring creativity, critical thinking, leadership, or artistic expression. Rather, automation will free humans from performing specific tasks.
For instance, AI cannot do creative writing. While it can generate content, it cannot create it without detailed and specific guidelines. Natural language generation (NLG) is a software process that auto-creates content from the data stack. It's being utilized by businesses to generate messaging communication, data reports, and portfolios.
G. Discovering Impactful Insights with AI-enabled Customer Analytics
While it may require humans significant amounts of time to analyze numbers and large chunks of data, AI can deliver results by performing checks at lightning speeds.
For example, Under Armour's partnership with IBM and the potential of Watson AI with its "cognitive coaching", the development of HealthBox differentiates itself from the competition. By feeding nutrition, training, and sleep information the ecosystem is able to understand data in large volumes, recommend actions, and continuously learn.
AI algorithms systematically leverage billions of data points to develop buyer personas. Some of these touch-points involve previous communications, purchase patterns, onsite transactions, sources of referrals, and more.
As a result, machine learning algorithms develop abilities to:
Detect which customer segments should be focused on for campaigns.
Provide suggestive and likable products to the right customers.
Avoid promoting certain stocks to buyers who continuously return products.
Artificial Intelligence provides options and insights to react to customer behavior with the most relevant content or products. This can be acquired from previous interactions of website users or via the shipping department.
Future Demand for AI and Machine Learning
The demand for machine learning and AI by businesses willing to enhance their customer experience is expected to increase. In fact, Gartner predicts that almost 70 percent of customer interactions will involve technology backed by AI and machine learning by 2022. This is a direct hike from the 11 percent recorded back in 2017.
Artificial intelligence (AI), chatbots, and virtual assistants have been around for a while, but their capabilities are continually advancing. As per recent research from IDC, AI already proves to be a powerful tool for transforming CX among businesses. Firms that adopted AI and machine learning during their early days, have reported around 25 percent improvement in CX, enriched margins, and enhanced competitiveness.
Final Thoughts
Artificial intelligence and machine learning have affected several aspects of businesses like prospecting, marketing, and sales. But, most importantly, their most significant contribution has been toward customer service. Undeniably, it has multiple benefits for improving customer experience and interaction through every stage of the customer journey.
So, to stay ahead of the competition, take note of the above-mentioned factors to optimally utilize AI and ML in your customer experience initiatives.