Despite prevalent beliefs, personal brands aren't just for famous pop stars or well-known entrepreneurs. In fact, personal brands are usually built before someone even gets industry-famous or famous-famous.
Fame is not really your speed?
There are countless other reasons to build a personal brand:
It will help you land a better job.
A personal brand can help you advance at your current workplace.
A personal brand is essential for solopreneurs, startup founders, coaches, and more.
You can grow your existing business through personal branding. Even if you are not a solopreneur and you don't run a small startup, your (potential) clients still prefer to put a face to the company they make business with. Through personal branding, your face doesn't just become better known; it also becomes more trustworthy.
A personal brand will help you build a valuable network.
You can do all that with a minimal investment – more often than not, all you need to invest is your time. And I promise you will be rewarded for it.
Here's how to do it.
Building a Personal Brand through Content Marketing – the Basics
As with every marketing tactic, you need to start with the most important thing:
What Goals Do You Want to Achieve?
Are you looking to further your career, to land a new job, to build a business, or to improve your current company's brand awareness? Your end goal will dictate your approach and the platforms you use.
For example, if you want to land a better job, you can start by improving your LinkedIn profile and post more often on the same platform. If you want to pad your company's bottom line, there may be other platforms where your potential clients spend more time, like Twitter, Instagram, or Reddit.
Create a Mission Statement
Who are you? What do you stand for? What are your values? Do you have a cause that you'd fight for endlessly?
All of these things should appear on your public profiles on every platform.
This is my contributor profile here on SiteProNews:

And this is my Twitter bio: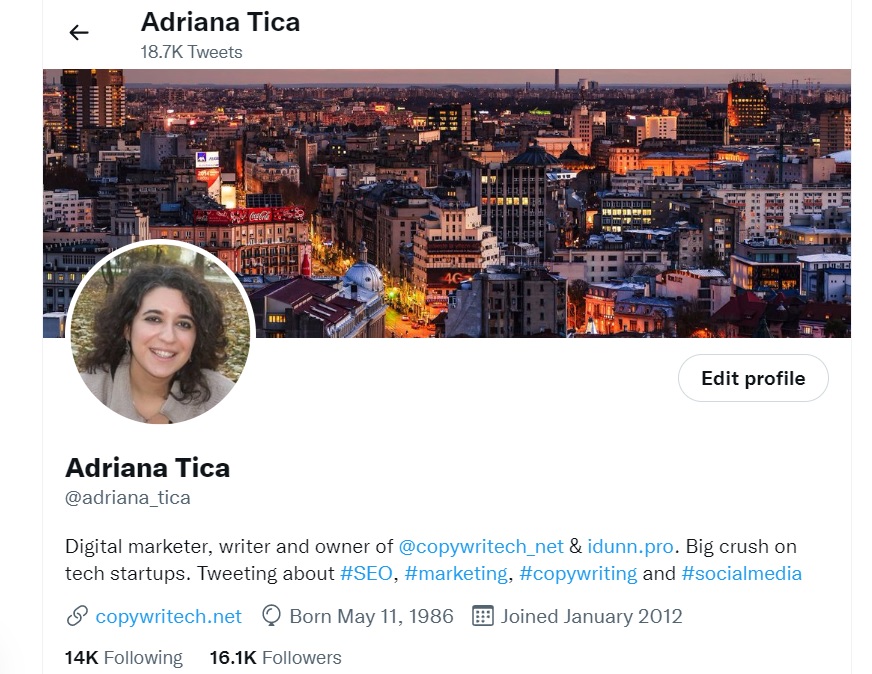 They are pretty similar and they both talk about my businesses and my love for the tech industry and my experience in working with companies in this field. These are the messages I want to get across on all platforms.
Of course, the exact wording needs to change depending on where you publish your content. But it's useful to have some consistency across the board.
Define Your Target Audience
Now that you've written who you are and what you excel at, let's talk about your audience.
Who can benefit from your knowledge the most?
Who is the ideal person to support your goals – bring extra ROI to your business, promote your startup, get a new/better job?
How can you best reach these people?
Out of the three criteria above, the first two are crucial – and they work best together, so always (always!) make sure that your audience's needs are aligned with your goals. Let me give you another personal example: for me, it's very easy to network with other content marketers and agency owners. We have a lot in common.
These connections are very important: I learned (and still do!) a lot from my peers. Sometimes, we even found opportunities to work together or promote each other's businesses.
But the type of connection that brings actual ROI to my business is not exactly this. I need to reach business owners, so I hang around where they do and write and talk in a way that makes sense to them, not to my marketing peers.
Which brings me to my next point:
Choose Your Platforms Wisely
Despite constantly-dropping organic reach on all social media platforms, they are still a great place to make your voice heard. But you have to choose them wisely.
For example, if you work in financial services (the scruffy kind, not the startup kind), you may want to replace TikTok with something more "serious".
Go where your audience is. You've defined it above, so you should have an idea about where they hang out most often.
You don't need to be everywhere. You just need to be where it matters.
Talk About What You Know Best
Everyone is good at something. If you already have a few years of work experience or if you run a business, you surely know a few of your strong traits already.
Write on a blog. You don't even need to buy a domain, you can simply publish on platforms like Medium or even LinkedIn. Record a video and post it on YouTube or Vimeo, write in Facebook groups, join Twitter chats, create TikToks – the possibilities are endless.
The key here is to leave a digital footprint behind – the kind you want people to find and follow. You don't have to spend ages creating content – even twice a month is enough. Consistency is far more important.
You can write about the processes you use, the strategies you create or implement, your success stories, the mistakes you learned from – pretty much everything will resonate with someone, somewhere.
Plus, you can use solutions like Sendible to schedule your posts in advance and see your personal brand grow even while you're on vacation.
Assume that everyone you will ever do business with (or work with) will Google you after they first meet you – because they do! And it's not just recruiters.
I'll admit – I have a bit of a detective inside, too. I'll vet any new clients for my agency and any new hires. My Google Fu is strong and I'm not ashamed to use it to make sure that I don't go into business with a very good scam artist.
Whenever my detective work unveils a decent personal brand, I'm already half way convinced. I'm more likely to hire a content writer that has a visible personal brand a more likely to respect a client who has invested some time in building a brand – and not just for their company, but for themselves too.
Finally: Take Your Time with Building Your Personal Brand
Internet fame is fickle. Almost everyone wants it, so you've got some competition.
Don't assume that one or two posts on LinkedIn are going to turn you into an overnight sensation. That happens extremely rare. And when it does, it usually lasts too little to reap real benefits from it.
Take your time. Write. Speak. Test. Redo, do better. Rome wasn't built in a day; you can't expect it from your personal brand.