Author - Gabriel Shaoolian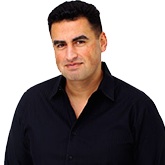 Gabriel Shaoolian is a digital trends expert and CEO and founder of Blue Fountain Media, a digital agency in NYC focused on growing brands online through effective websites and online marketing. From start-ups to Fortune 1000s, Blue Fountain Media helps generate more leads and increased brand recognition Last year alone, the company, which has a client roster that includes Procter & Gamble, Harper Collins, Canon, NFL, Publishers Clearing House, Sharp, AOL and the United Nations, drove more than 200 million monthly visitors and $2 billion in revenue to the digital properties of its clients.
Sorry, there are no posts found on this page. Feel free to contact website administrator regarding this issue.