Link building is a method of getting other sites or blogs to link back to your site. 
But, why should you build links?
The algorithm of Google and other search engines are always changing, but links have always been one of the important factors of ranking sites for particular keywords. 
They act as a signal to the search engines that your website is worthy of citation. Hence, the sites which have more high-quality backlinks are given the top positions on the search engine results pages. 
We always want the maximum value for what we purchase, use or create. 
For example, if we want to buy a car, we look for the best one available within our budget. 
You should follow the same principle while building links. 
In SEO, create valuable, high-quality backlinks which will pay off in the long term. 
Links not only help you to reach the top of the SERPs, i.e., Search engine result pages, but also drive tons of organic and referral traffic to your site, which makes your overall SEO strategy profitable. 
First, let's understand what Link Value or Equity is
Link equity or value is defined as the SEO (Search Engine Optimization) power or authority of each backlink of your site. 
It's important to get as many high-quality links as possible if you want to boost your keyword rankings or overall search visibility. 
7 Ways to Judge the Value of a Link:
Not every link you get for your website is good. Some links are more valuable than others, and these are the ones that can make or break the rankings of your site. 
Here are the different ways to find how powerful a link is and whether you should include it or not in your link-building strategy:
1. Is the link internal or external
Search engines value external links more than internal links. If your website has more internal links and fewer links from other sites, then the chances of ranking on the search results page decrease significantly. 
According to research by Moz, more than 99 percent of the first 50 search results on Google have at least one external link.
Google's, and other search engine's, primary goal is to show the best results for any search query. 
Therefore, it makes sense to rank a site higher with more external links because it is a signal that people like the content by linking back. 
It also means that other websites trust it, and reinforces that Google and other search engines should too. 
Hence, you should spend more time in building high-quality external links as compared to internal links. 
2. Domain authority
There are many methods of getting external backlinks but getting backlinks from a high-quality and authoritative domain is much more difficult. 
It requires a lot of hard work, time, and effort and the overall success rate is also very low. But once you get those backlinks, it helps to make your SEO marketing strategy successful. 
For example, if someone has hundreds of backlinks from a new and less authoritative website, but you have only a few backlinks from high domain authority sites, then your webpage or content will rank higher in the search engines as compared to the other one. 
If you want to know about the quality of the site, there are several online tools available which can help you to look at different metrics such as Domain Authority, Page Authority, etc. 
3. Is the backlink from a well-linked page?
Once you have found a high authority website, examine the number of backlinks that page has from which you want to get a link. 
If the page has more external links, it means that the site is offering some value. 
Hence, if you get a backlink from a well-linked webpage, then the value of the link is much greater to Google and other search engines. 
You need to analyze the entire backlink profile and find how many backlinks there are and if the links are from popular, and high-quality websites?
If the answer to the above questions is yes, then you should add the site in your link building strategy.
You need to keep in mind that the more links and social signals a site has, the better its link value. 
If you want to know about the latest link building strategies, then take an SEO training course which will help you rank your website higher on the search engine results page. 
4. Contextual Links
There are different places to get links, including author section, footer, header, site sidebar, and others. 
Links placed at various places on a site have different link values. Contextual links, however, have the highest value.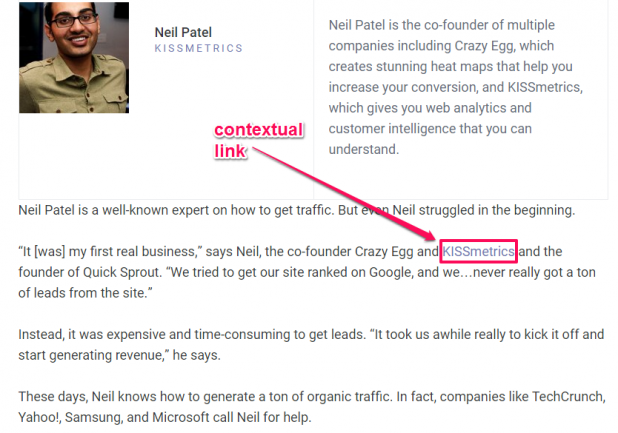 Contextual links are also known as "in-body or context links," and they have the most value because they are placed in the main content of the site and look more natural. 
Google and other search engines value content links more than links placed in the footer, sidebars, etc. 
Here are three ways to build contextual links:
Write guest posts on related and high-authoritative sites.
Create and share infographics on other sites.

 

Distribute press releases.
5.
 

Anchor Text

Anchor text helps search engines understand what the inserted link is all about. Here's an example:

Highly optimized anchor text has more value as compared to text which isn't optimized. If the keyword you are targeting and backlink are related, then it informs the search engines that the link should be valued more. 
Hence, while creating backlinks, make sure to write the text related to the targeted keywords. 
But don't overdo it because according to the latest Penguin algorithm update, Google may decrease the ranking of sites which have too many backlinks with exact match anchor text.
Therefore, it's essential to diversify the anchor text you're using for creating backlinks. All you need to do is use related keywords that convey the message of the page appropriately. 
6. Link from Different Domains
If you know someone who has an authoritative website, then don't build 30 to 40 backlinks from the same site.
You might think that it is an easy way to increase your backlinks, right?
It is not, however,  the best way to increase link value. It is better to have 200 backlinks from 200 websites, than 200 links from one URL. 
Search engines assign more value to links which are from unique websites rather than multiple links from the same site. 
If you have 15 links from 15 webpages of the same site, then the search engine will count them as one root link. But, if you've got 15 links from 15 different domains, then they will count as 15 root links. 
It's better to diversify your backlink profile and have several root backlinks because it also protects your site from getting penalized by the search engines. 
7. The links are followed or not
The most important thing to check while building backlinks is if the links are do-follow or no-follow?
Nowadays, even well-known sites like Forbes, Inc, Huff Post, and Entrepreneur provide no-follow links by adding a "rel=nofollow" attribute. It informs the search engines not to pass the page link juice to the sites they are linking to, which decreases the value of a backlink. 
To check whether the link has a no-follow attribute, right-click on the anchor text and choose Inspect.
If you see the "rel=nofollow" on the HTML code, then it is a no-follow link.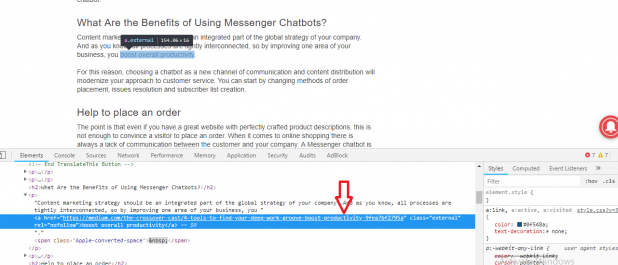 Try to build do-follow links rather than no-follow since they have much more value and can help you to rank higher in the search engines.
Final Thoughts
Building high-quality backlinks with lots of link value is a difficult job.
You need to measure the different metrics to make sure that they help in increasing your site's search engine ranking.
It is also advisable not to wait until you get the perfect link building opportunity. For example, if you get the opportunity for great anchor text with proper placement on a related site, don't turn down the offer just because it didn't have high domain authority or page rank.
Start building backlinks however you can and then gradually scale your link building strategy to get the best results possible.