Getting your website to the forefront of search engine result pages should be a top priority for 2019. The number of searches being performed is increasingly rising which creates an opportunity to serve a growing demand for products and services found online.
Your website should serve as an asset that assists in the growth of your company by providing opportunities for new clients through lead generation. This goal can be achieved by positioning your site competitively in the search listings for search terms that attract high converting visitors.
Strategize your keyword selection
Establishing the key phrases that will provide the most targeted streams of traffic can be done through a simple process of building a long tail keyword. Long-tail search phrases are ideal because they specify what your company offers, they provide an opportunity to optimize your website for voice search, position zero- the featured snippet and there is usually less competition optimizing for specific phrases.
Here is a simple checklist to get you started in the right direction:
Start building your keyword with the product or service you offer.
Add a specific location to narrow the market for where you're optimizing for and who is competing
Add secondary geolocation if applicable
Type your keyword + location in Google and see what is suggested
Add a descriptive term such as "best, find, buy, etc." based on Google's" suggestion
Using this formula we can build a long tail keyphrase for any niche and as an example, we'll use "bespoke tailor" as our main keyword.
Bespoke tailor
Bespoke tailor Toronto
Bespoke tailor downtown Toronto
"Best" was an option
Bespoke tailor downtown Toronto
Type your seed keyword with the geolocation in the search box to see a list of related suggestions that appear below the box. These are popular searches Google is suggesting which you can also consider using as part of your key phrase cluster.

Hit enter on your search and scroll down to the bottom of the page. Below you will see "Searches related to (your keyword)" which presents more options to add to your key phrase.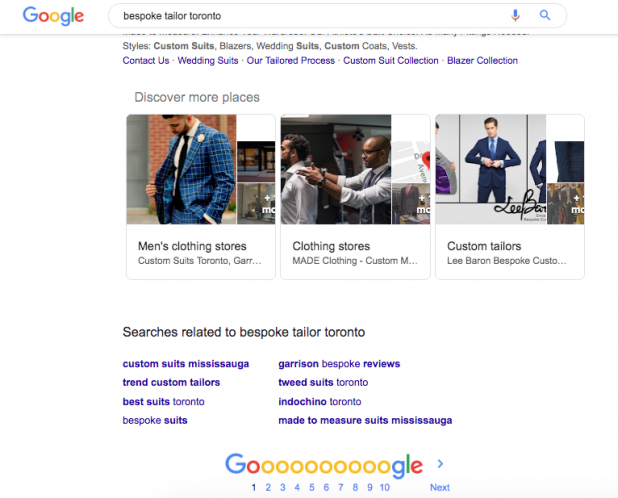 Optimize your website for your long-tail keywords
Optimizing your website is as simple as creating a blog post titled with your long tail search phrase. Answer the question you've created in as much detail as possible. Use lists and subtitles to optimize your post to give your page the best opportunity to be selected for the featured snippet.
Here is an example of a website that is optimized for a long tail keyword in one of their blog posts.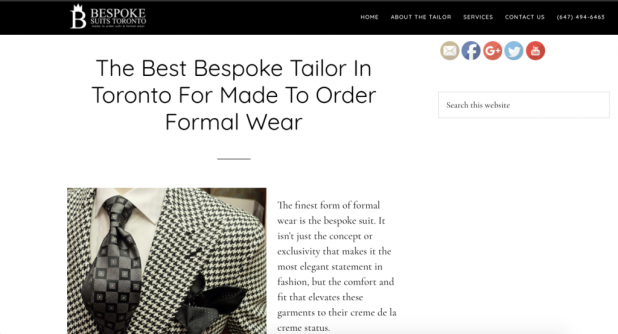 The site doesn't show up on the first page for bespoke tailor-which is the seed keyword but by adding more descriptive terms the site ranks on the first page for the long-tail keyword.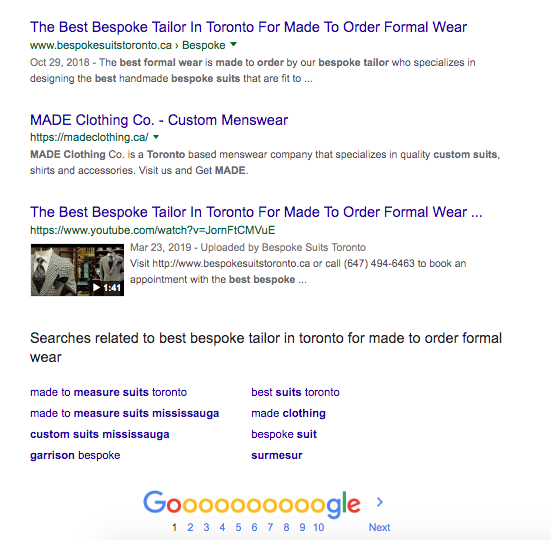 Post content to solve common problems clients experience
Your first priority for content creation should be helping your clients with common issues they face that are related to your product. Your website will serve as a resource for visitors to explore when they are faced with a problem. If you can provide the solutions they need-they will return more often which builds trust, confidence and makes them much more likely to buy from your company.
Return visits, increased click-through rates and longer dwell time are the objectives to achieve that will contribute to a higher quality rating for your website. Providing solutions to common problems will not only engage your visitors and lead to better metrics but will also encourage your page to be shared.
Use social media to jumpstart traffic
Syndicate your content using popular social media platforms to get your website started with traffic. The problem for a developing website is that the authority rating is not high enough to outrank developed sites, therefore even if they are optimized for a long tail keyword, they will need a boost to get closer to the top of the search results. This is more than likely the case if the niche you compete in is full of websites that are actively engaged in SEO or have been around for long enough to earn a high authority rating.
Natural backlinks are the best form of link building. If you are creating content that is solving problems and getting a response, it will be shared. The traffic to your site will help generate the metrics necessary to move your site up in the rankings. This begins the snowball effect where more people find your site and you are lifted closer to the top of the results.
Build authority to push your website to first page results
When optimizing alone doesn't give you the desired search results, a boost in authority will reinforce your claim to the first page. Authority is heavily determined by the backlinks your site has, so building links will be your final effort that will give your site the push it needs.
The best backlinks are from websites that share similar content and therefore have strong relevance to the keyword or phrase for which you're ranking. Websites with high authority will have a stronger positive influence on your site but the value is also found in their backlinks as well. If the backlinks of the site linking to you have strongly related backlinks of their own, search engines find more relevance which creates a strong positive ranking signal. In order to determine the authority of a website as well as view their backlinks, you will need to use software such as Majestic or Ahrefs.
It will be necessary to make a list of potential websites that will benefit your site with a backlink. You will need to write an outreach email to make your introduction and request that they link to your site. It may sound awkward and it is. The truth is most of those emails will get ignored, but if the site owner is a regular blogger, you can appeal to their ego by complementing their work and mentioning your own as a related source they could use in their next blog posts.
Optimizing your website for long-tail keywords can get you a first-page status faster than short-tail keywords. Building the authority of your site will not only increase your chances to rank on the first page for long tail keywords-but improve your ability to rank for more competitive terms.