When it comes to data collection and analysis, a quiz is the most versatile tool. You can use it for business purposes – to get familiar with your customers' habits and preferences, personalize their experiences, attract and retain them, and thus increase your bottom line. Or, you can use it to assess your employees' skills and boost their satisfaction. 
Then again, its most common application is in education. It's where these convenient tools feel right at home, helping you track knowledge retention rates and improve the learning environment. And need we mention how user-friendly, fun, and cheap they are? 
Across industries and sectors, quizzes will always provide a generous sneak peek into how people learn, think, and feel. This insight is knowledge, and knowledge is power. 
The Immense Power of Quiz Makers
Quizzes are not only super effective, but they are also efficient. 
Not only are they far cheaper than a myriad of other data collection and analysis tools, but they are also much simpler to use, though just as successful in tracking and measuring. Of course, this is true only if you're equipped with reliable quiz builder software. But, before we introduce our top picks for the best free quiz makers in 2019, let's see what "reliable" means in terms of capabilities and features for collecting and analyzing data:
Customization Tools
Because quizzes are so versatile, it's only acceptable that a good quiz maker should provide the same number of options for creating, deploying, sharing, and analyzing quizzes. This means that it must include a library of templates for those who don't want to create quizzes from scratch, but also a possibility to design custom themes and questions. 
Mobile Responsiveness
It also suggests that reliable quiz builder software should enable you to create mobile responsive quizzes that can be accessed across all devices and shared on multiple channels. 
Analytical Features
There's no point in using quizzes for data collection if you cannot analyze the quiz-takers' responses with precision and ease. This calls for robust real-time reporting features. Automated insights and statistics are therefore the third most important capability to look for in quiz builder software. The more comprehensive they are, the better. 
Along with being free and easy to use, the following quiz makers check off all other boxes: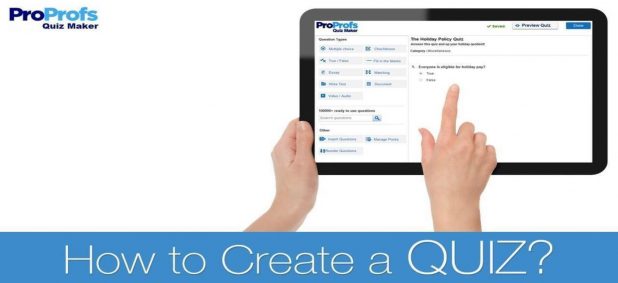 ProProfs is easily the "World's Simplest Way to Create Online Quizzes".
It offers 100k+ customizable quizzes and 1,000,000+ ready-to-use questions, plus more than 15 question types available in more than 70 languages. 
In terms of customization, it allows you to add images, videos, and presentations, as well as to personalize or create your own design themes using your brand colors and logo. 
ProProfs quizzes work across devices and can be shared on your website and social sites or via email. Not only does this maker provides in-detail insights into quiz-takers, but it also enables automated grading and feedback, which is certainly one of its award-winning features. It's ideal for everything from educational exams and employee assessments to surveys and polls.

Same as ProProfs, Poll Maker's Quiz Maker equips you with every important functionality. 
Whether you decide to use customization tools or to deploy template quizzes as is, this software allows you to create and publish a quiz in only a couple of minutes. 
It supports multimedia too so that you can make your quizzes more engaging. 
When it comes to measuring results, Poll Maker's Quiz Maker boasts custom filters that facilitate data analysis, while actionable insights can be exported in excel/CSV form. 
This quiz builder software satisfies in every other aspect – it's simple to use, mobile-optimized, and flexible enough to help you with lead generation and student assessment alike. 
3. Free Online Surveys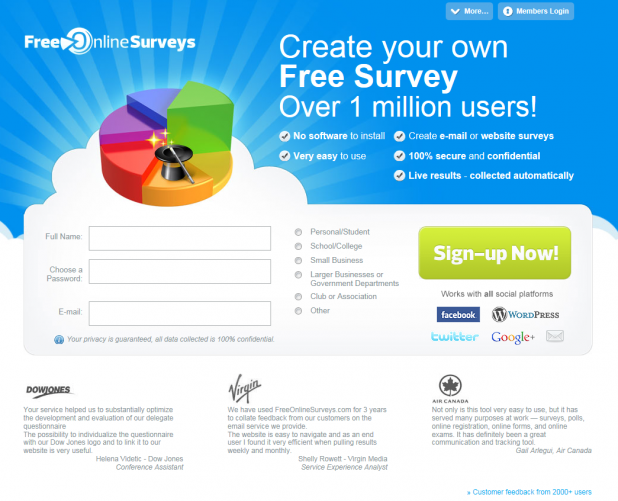 From quizzes and surveys to polls and forms, Free Online Surveys has it all. 
This quiz maker's offer includes various question formats, automated scoring, multiple questions and pages, complete brand control, and custom reports – all traits of a reliable quiz builder software. 
Its free-of-charge capabilities allow the same amount of customization and an equally robust analysis as ProProfs or Poll Maker's, thus amounting to a versatile solution for every industry. The quiz publishing part is just as easy as with our previous contenders – it requires no coding knowledge and only enough tech savviness to copy-paste a short URL to the desired site. 
All this makes Free Online Surveys a great service for every need. 

This web-based quiz builder software is designed with both educators and businessmen in mind. 
ClassMarker allows you to create quizzes with numerous question types – short answers, multiple choices, instant feedback, random questions, and time limits. 
Instead of a library of templates, it offers the question bank that you can use at need, whether to deploy as-is or to adjust to your specific requirements. Real-time grading and individual question feedback are also included, together with smart filters for narrowing down responses by quiz type, questions, and other categories. 
As it should be, ClassMarker is available for both desktop and mobile devices.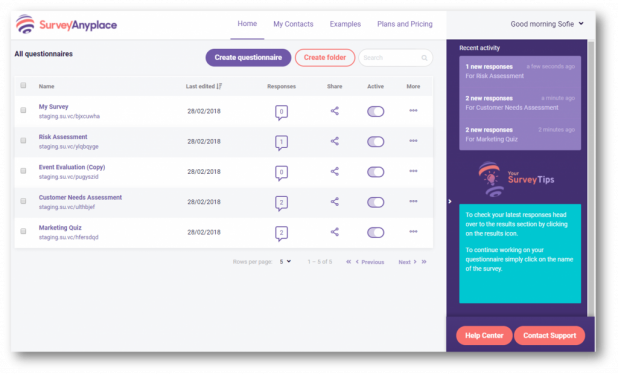 Survey Anyplace is an online tool to create engaging surveys, quizzes and assessments. 
The use of interactive quizzes is a great way to make your existing content more engaging and increase conversions. According to research, interactive content generates twice as many conversions as passive content. 
Survey Anyplace offers the following features to create a great, interactive experience:
Gamified and multi-media aspects: Increase engagement by adding gamified and multi-media aspects to your quiz: Everything from videos, selfie-uploads, to a digital scratch card or slot machine, will brighten an often 'dry' quiz.
Text only screens: return feedback or information to the participant and make the experience more conversational

 

Offline functionalities: Collect data literally anywhere with offline quizzes! Store your results locally and have them automatically uploaded as soon as you're connected
Custom final screens and scoring depending on the answers or the questions or score of the participant.
An interesting – more recent – feature is the possibility to automatically send a personalized PDF report to the participant. The content in this report is dynamic in function based on the answers the participant gave in the quiz.
Conclusion
ProProfs, Poll Maker's, Free Online Surveys, and ClassMarker each deserve a place on this list by making quiz creation easier and quiz taking fun. Whichever you choose, you cannot make a mistake.
Whether you need a quiz builder for lead generation, customer feedback, employee assessment, or educational purposes, you'll find these solutions to be able to meet every specific requirement.