As a marketer or business owner, you're always on the lookout for new ways to maximize conversions. You're investing in creating content that will attract and resonate with a relevant audience, and you're investing in promoting that content so that people will actually see your content. So, it only makes sense to invest commensurately in designing your pages for conversions.
All jargon aside, "designing for conversions" simply means including and arranging elements on your web pages that will help you increase conversions, whether they're sales conversions or micro-conversions like newsletter subscriptions that help pave the way to the sale. 
Traditionally, these page elements are used to offer conversion mechanisms. People often think of big call-to-action (CTA) buttons and popups as the best ways to get people to convert, but those elements can be perceived as interruptive or pushy, and they're often deployed before someone has a chance to get to know and trust your brand. 
Conversion optimization also hinges on your website's ability to convey authority, transparency and trustworthiness. When deciding what to embed on your pages, it's important to consider your audience's experience, both in terms of what they're on the page to accomplish, and in terms of what is reasonable to expect from them.
With this in mind, in this article, we'll take a look at three unconventional things you can embed in your pages to maximize conversions and ultimately boost sales. We'll explain why they're great for getting audience members to act on your conversion goals and share some useful tips on how to get started with implementation.
1. Build Trust by Embedding Reviews
Embedding online reviews of your business directly on landing pages is a great way to build trust with prospects and boost conversions. Online reviews are the new word-of-mouth marketing. When prospects read about other people's positive experiences with your products or services, they're more likely to try your business out for themselves. This is precisely why embedded online reviews have the potential to influence the customer's buying decision.
Embedding reviews from trusted third-party platforms is far more impactful than simply adding a screenshot of a customer review or pasting a text-only review into your web page. This is because with embedded reviews your business ratings and review counts stay updated and verified by the review platform. Additionally, users can click on the embedded review to see more reviews.
Here are some actionable tips to help you get started with embedding reviews into your landing pages:
First of all, you need to collect reviews for your business (or products and services) that you will embed into your landing page. Check Yelp, Google My Business, or Facebook for business reviews. If you haven't started collecting reviews already, you might consider soliciting reviews from your email list, but make sure to do so carefully, in a manner that complies with the review platforms' policies.
Keep in mind that although many review platforms support embeds, we're using Yelp as an example, since it's one of the most trusted review platforms that also supports all sorts of local businesses.
Once you've found a review on Yelp that you'd like to embed on your landing page, hover over it to reveal the review options. Next, click on the Embed review link.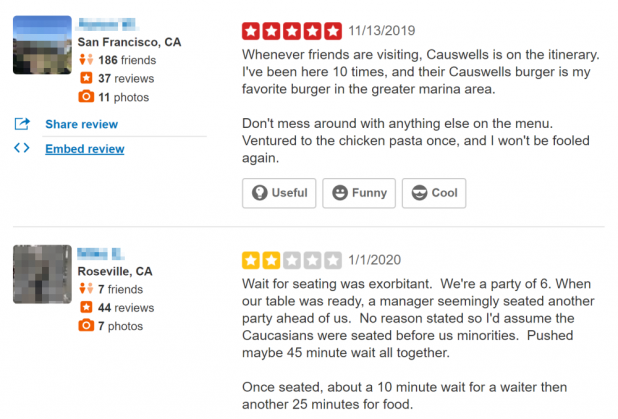 Finally, copy-paste the embed code into your website where you want it to appear.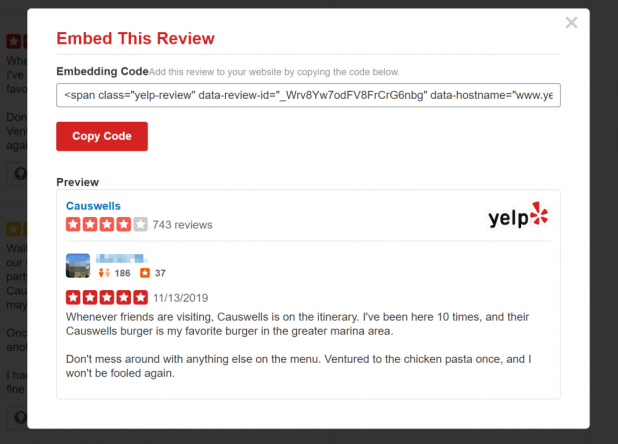 And that's it! The Embed This Review pop-up also shows you a preview of what the embedded review will look like on your site.
Pro tip: Best practices suggest that you embed at least three verified reviews on your landing page for maximum impact.
2. Unify Your Brand Using Embedded Meeting Rooms
An embedded meeting room is an online meeting room or a webinar virtual space that's deployed directly on your website. This enables your audience to view your webinars by going straight to your website instead of the webinar service provider's site or a video hosting platform.
When you embed a webinar or meeting room on your web page, visitors can interact with it and attend it directly from your website. This delivers a seamless user experience and increases the chances of registrants attending the online event. They are especially great for online businesses that need to organize webinars or meeting rooms occasionally, such as for a product launch.
Embedding a meeting room on your website enables you to make the most of targeted web traffic, gather registrations, and maximize conversions. Prospective attendees are able to learn about your event, register for it, and then later attend it on the same page, reducing potential dropoff.
Another benefit of embedding your webinar room is that it offers a great way to build your brand. Your website allows you to showcase your brand voice and vibe in a way that supports the products or services you have to offer. Instead of relying on brand colors only, you get to deliver the complete experience. As a bonus, you don't have to worry about directing the audience to your business site during or after the webinar.
Finally, if you embed meeting rooms directly on your website, visitors won't have to download or install additional software to attend your webinar or meeting, which is often a main reason why registrants fail to attend webinars and online meetings.
Here are some actionable tips for embedding meeting rooms into your web page:
The first thing you need is a webinar or meeting room tool that lets you embed meeting rooms directly on your website. ClickMeeting, for example, offers embedded meeting room capabilities in addition to various advanced features, including file sharing, screen sharing, and meeting transcripts.
Here's how you can embed meeting rooms on your web pages using ClickMeeting, a leading webinar platform that supports this functionality and doesn't require webinar participants to open accounts. First, log in to your ClickMeeting account and create a new event.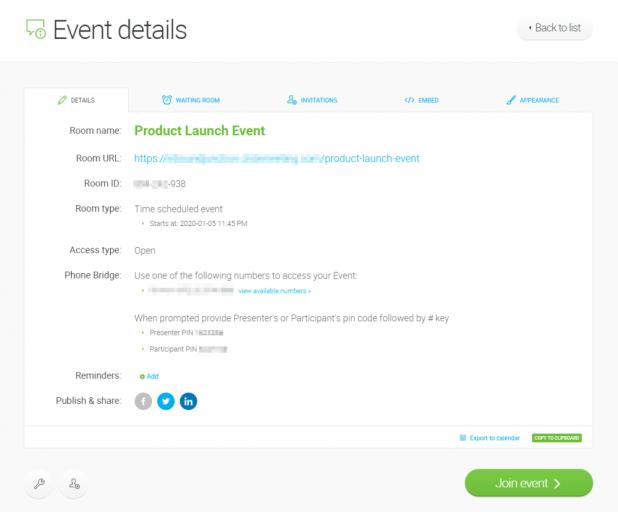 Next, navigate to the Embed tab. Copy-paste the code provided under the Room embed section on your web page where you want the meeting room to appear.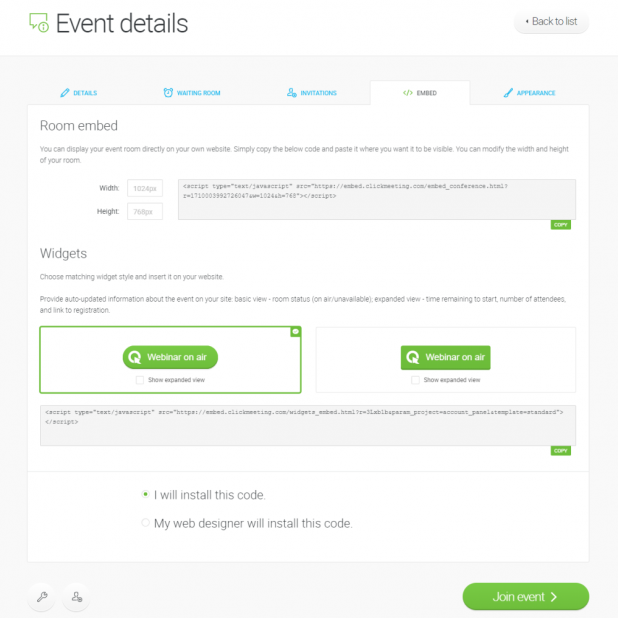 ClickMeeting also lets you embed meeting room links as widgets. This is a great way to provide updated information about the meeting or webinar on your website. For example, the expanded view shows how much time is left until the event starts, number of attendees, and a link for registration.
ClickMeeting also lets you customize different aspects of your embeddable meeting room, including room size, branding, secure login and expiration date.
3. Click to Tweet Links
Some types of conversions help move your audience closer to becoming customers while others help attract additional qualified audience members. Getting people to tweet out links to your content does both.
Although sharing content from your company's branded social media profiles gives you complete control over your messaging (not to mention it's extremely easy), your target audience might perceive it to be less reliable than content posted by other customers. What's more, the social media newsfeed algorithms give a lot more weight to peer-to-peer posts than brand-to-people posts.
By embedding "click to tweet" links on your web pages, you can encourage peer-to-peer content promotion, effectively expanding your reach, because you're giving existing audience members an easy way to recommend your content or products to their social media followers. Click to tweet links remove unnecessary friction from the sharing process.
While this approach doesn't necessarily drive more direct sales conversions, it can help you drive more qualified traffic to your landing pages. In this manner, it indirectly helps you boost conversions.
Here are some actionable tips on how to embed click to tweet links into your web pages:
Head over to ClickToTweet, one of the easiest services for implementing these links and sign in with your Twitter credentials. 
Next, type in the copy of your tweet in the text box. Keep in mind that un-shortened links take up 23 characters. So, if you want to include a link in your tweet, use a URL shortener like Bitly to generate a compact link.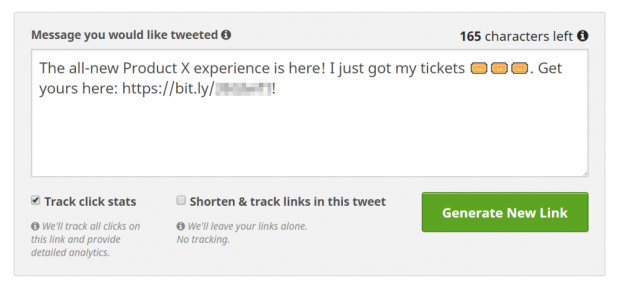 Once you're done, click the Generate New Link button to create a custom link. Finally, copy the generated link from the Click to copy your shareable link: box and add it to your web page or blog post.

The ClickToTweet tool also lets you add HTML embed themes and basic embeds to your web pages, so your link can aggregate as an attractive pullquote-style visual on the page.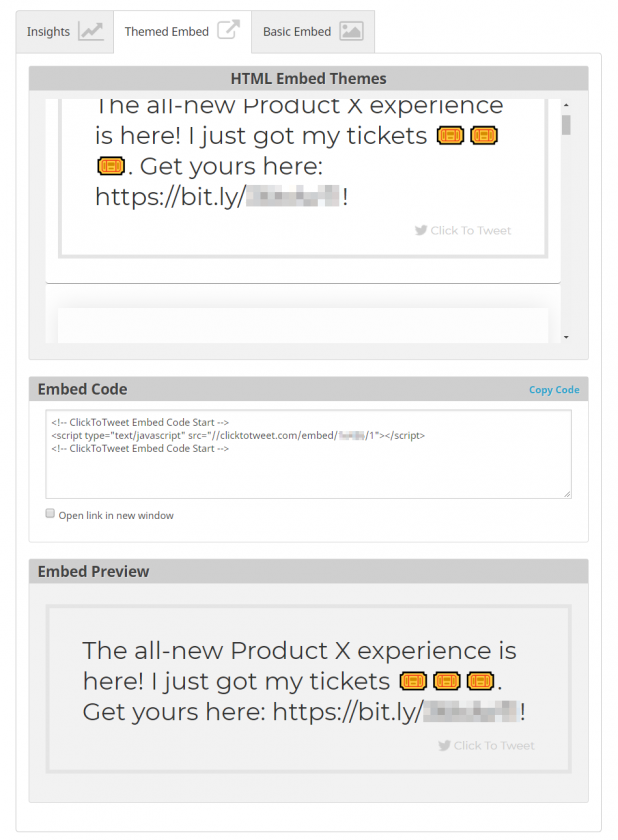 Conclusion
We've looked at three things you probably haven't considered embedding in your web pages to maximize conversions, and we've showed you how to get started with a step in the right direction for all three ideas.
To recap:
Embedded customer reviews can help you build trust with your audience and convince them to check out your products or services.
Embedded meeting rooms are a great way to reduce friction, promote your webinar, gather registrations, and offer a consistent branded experience.
Embedded click to tweet links let you encourage customers to share their experiences with their social media followers and refer even more qualified traffic your way.