If you've ever been on social media, you have probably noticed the growing dominance of visual content across various platforms.
Although written content continues to be valuable, text coupled with strong visuals is gradually taking the front seat.
Have you ever wondered why?
In an era of content overload, users want content that's appealing and easy to consume. That's where visual content can help.
According to a report, 80% of marketers used photos in their social media marketing, and 63% used videos. It's evident that marketers are using visuals to get the attention of their audiences.
Still not convinced about the merits of visual content?
Here are four ways in which visual content can boost your lead generation efforts.
Increase Brand Awareness
Although brand awareness and lead generation are often thought of as completely different strategies, they do complement each other.
After all, if people do not know you exist in the first place, how can they turn into buyers?
But what role does visual content play?
With visual content, you can communicate your brand values and messaging. You can educate your audience about your products or start conversations about relevant topics.
For instance, Grammarly is an online digital writing tool that helps people by correcting their grammar and making their writing more effective. They post visual content on Instagram and Facebook to reach out to people who are passionate about reading and writing.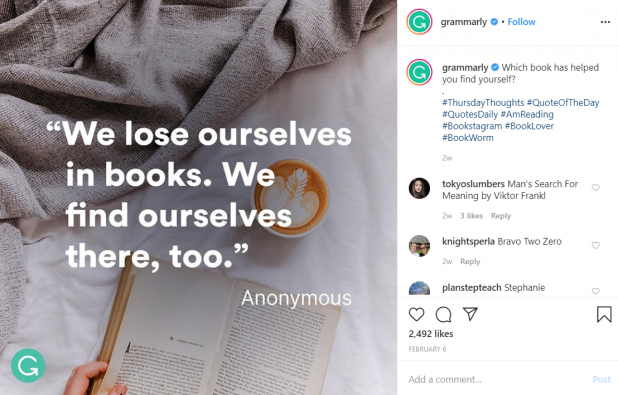 What's more, Grammarly maintains consistency across its posts by using the same font and sticking to a minimalistic look. By doing so, Grammarly can boost their brand recall value as well. 
That's an important takeaway for marketers looking to produce more online content.
Repetition and consistency are the foundation of brand awareness, and eventually aid lead generation. In fact, a 2019 survey revealed that brand consistency can result in a 33% overall growth.
So, how can you ensure that the branding of your visual content is up to the mark?
There are a number of marketing tools that can help you come up with content ideas and designs to achieve the required consistency. With the help of a tool like Canva, you can easily watermark your visuals or add branded colors to your content.
Not only can this strategy help you build brand awareness, but it can also ensure that your content is not plagiarized.
Enhance Engagement
It is no secret that adding color, design, and graphics to your content makes it more interesting.
Think about it: would you want to read through a huge block of text?
With dwindling attention spans, chances are you prefer content that is scannable or easily readable.
Visual content can help you break down complex topics into a simple form. This, in turn, can help you engage your target audience more effectively.
Instead of listing statistics about a particular topic, you can create interactive infographics. Similarly, you can highlight your product's features through entertaining explainer videos or even unboxing videos.
You can get inspiration from Singapore-based personalized skincare startup, Yours. They use visual-heavy content across their social media channels. On their Instagram channel, they have unboxing videos as well as quirky GIFs, memes, and infographics.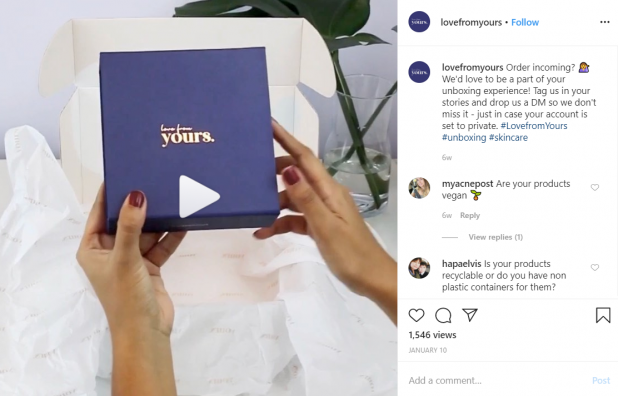 Furthermore, Yours encourages their fans to share their unboxing videos as well. To generate buzz and add social proof, they feature user-generated content on their Instagram channel as well. 
This is a great strategy to boost engagement and spread the word about your brand quickly. If you want to take it up a notch, you can also turn it into a contest or a competition.
Evoke Powerful Emotions
One of the most effective ways to get more leads is by forming emotional connections with your audience.
Consider this: 
A photograph of a mother holding her newborn baby versus a well-written passage about the mother-child relationship. 
Which would be more touching?
With visuals, you can evoke powerful emotions in your audience. If done right, visual content can trigger happiness, sadness, anger, and other emotions in your audience.
Not sure how to appeal to people's emotions?
Let's take a look at an example:
Brooklyn-based brand, Rescue Chocolate, is great at hitting people right in the feels. The chocolate brand donates resulting profits to the cause of animal rescue.
When there were talks about the potential banning of Pitbull ownership in Montreal, Rescue Chocolate uploaded a Facebook video with visuals of pitbulls in gardens and in the streets. In the video, they appealed to people to fight the injustice.
The video received 1.7K reactions and 628 comments.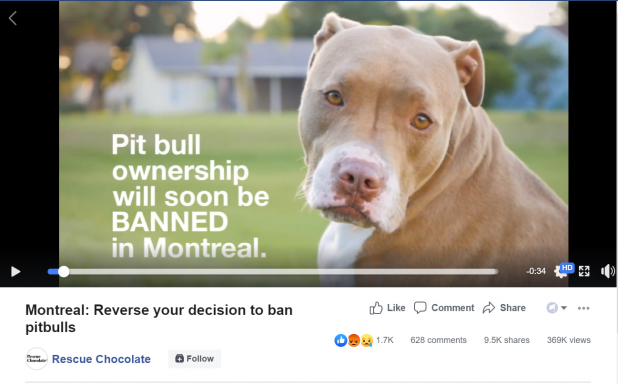 Memes can be another powerful form of content that is capable of inciting emotions and going viral. 
After all, what's better than making your audience laugh?
If you want to reach out to digital natives, meme marketing should be on your radar. The best part is that memes are easy to create.
For inspiration, take a look at the screenshot below. Potato chips brand, Ruffles, posted a clever meme on their Twitter feed to promote the brand.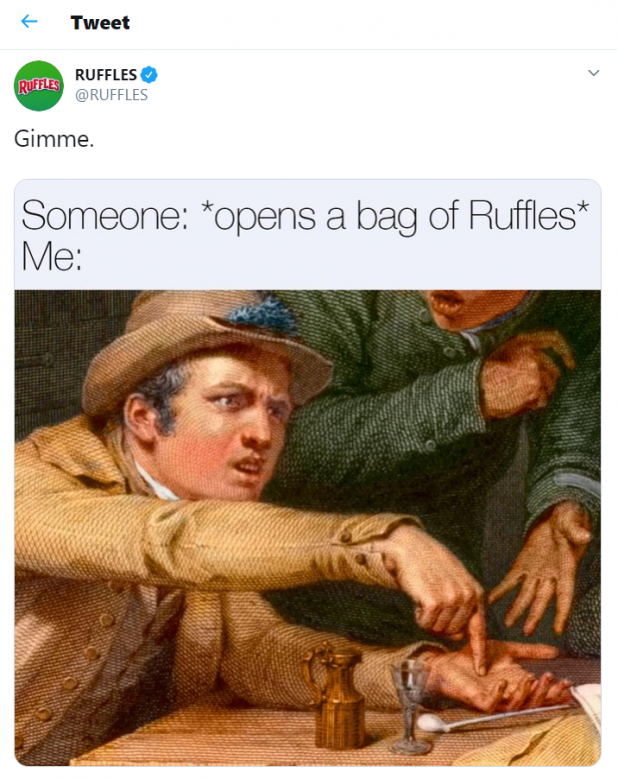 However, it's important to keep the sensibilities of your audience in mind while producing visual content that triggers emotions. After all, you don't want to offend your audience.
That's why it's a good idea to leverage tools for social media listening. Comb through your social media channels to find out what your audience reacts positively to, and what they engage with most.
This can help you understand your audience, and boost sales.
Embrace Real-Time Marketing
A good content marketing strategy leaves the audience with the impression that a brand is relevant, aware, and reliable.
Real-time marketing comes quite close to that. It can help brands provide a great customer experience. In the process, visual content can also play an integral role to highlight current events or customer feedback.
A brand that nailed real-time marketing is KFC. 
When the American fast-food chicken restaurant ran out of chicken, the brand did not point fingers at anyone. Instead, they posted an apology to their customers.
Customers value transparency from brands.
This tactic can help you retain customers. When things go south, customers observe how you navigate your way through the crisis. If you follow the path of honesty and sincerity, they will have a reason to stay.
Moreover, this kind of content is more shareable and has the potential of reaching a wider audience.
Isn't that crucial for lead generation?
Another great channel for sending the right message at the right time and the right place is email. Whether it's something in the news or just a weather update, you can use it all in your email marketing campaigns.
To ensure that customers don't turn a blind eye to your lovely offer, you need to design emails that are visually appealing. And the right colors, fonts, and pictures can make your emails more appealing.
Take some inspiration from the design in the screenshot below.

To create visual content for your emails on topical issues, you've got to be quick on your feet. To make the process easier, you can use email marketing platforms.
Summing Up
If you haven't jumped on the visual content bandwagon yet, it's about time you do. By helping you raise brand awareness, increase engagement, and evoke emotions, visual content can help you generate leads.
Does your content marketing strategy include visuals yet? How are you capitalizing on this trend? Please share your tips and insights in the comments below.