"Hey Siri, is Jon Snow dead?"
"He might just be in low-battery mode."
From funny questions to "find the best restaurants nearby," people can now receive more information with a simple voice command.
If you want to know about something, then your digital assistant can give you voice-generated answers in a few seconds. 
Voice search has become an irreplaceable part of our daily lives. However, can this technology benefit your business?
The short answer is yes!
Voice search optimization makes searching easier, allowing you to provide your audience with answers in a more direct way.
With AI on the rise, voice assistants are becoming smarter by the day. 
So, if you're thinking about using them for your business, then here are the benefits and tips you should know.
What is Voice Search Optimization?
In a nutshell, voice search is a speech recognition technology allowing users to search for something using their voice through a digital assistant.
According to statistics, as of 2020, the number of voice assistants in use reached 4.08 billion. By 2023, the number is expected to reach 8 billion.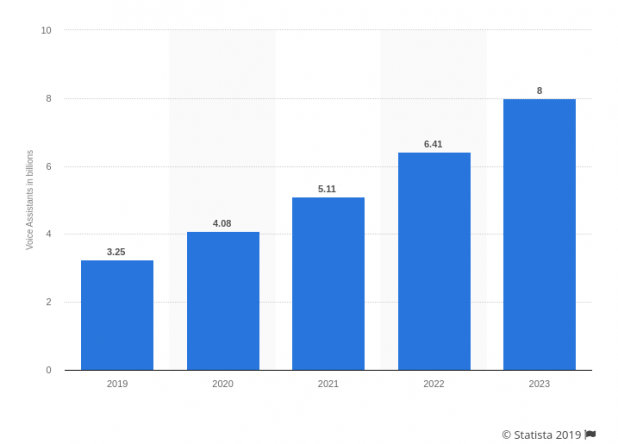 When it comes to voice search optimization, we refer to the optimization of keywords and phrases most likely to be used with digital assistants.
To optimize voice search, you need to optimize your content and brand information to increase your chances of appearing in voice search results.
Before we go there, though, let's first take a look at the benefits of voice search.
Benefits of Voice Search for your Business
1. Voice Assistants Have Become Smarter and Faster
Almost everyone has a mobile device that comes with a sophisticated voice assistant to help them out.
Compared to the first versions of your beloved voice assistants, you now have smarter and better versions with which to interact.
What's more, technological advancements have allowed these assistants to become more "real," in the sense that they constantly evolve to feel like you are talking to someone instead of a device.
Digital assistants have their own characteristics and consequently people prefer some more than others.
For instance, Google Assistant will get you the latest news, entertain you with jokes and even play games.
More importantly, though, people will use their digital assistants to find almost everything, even their emails: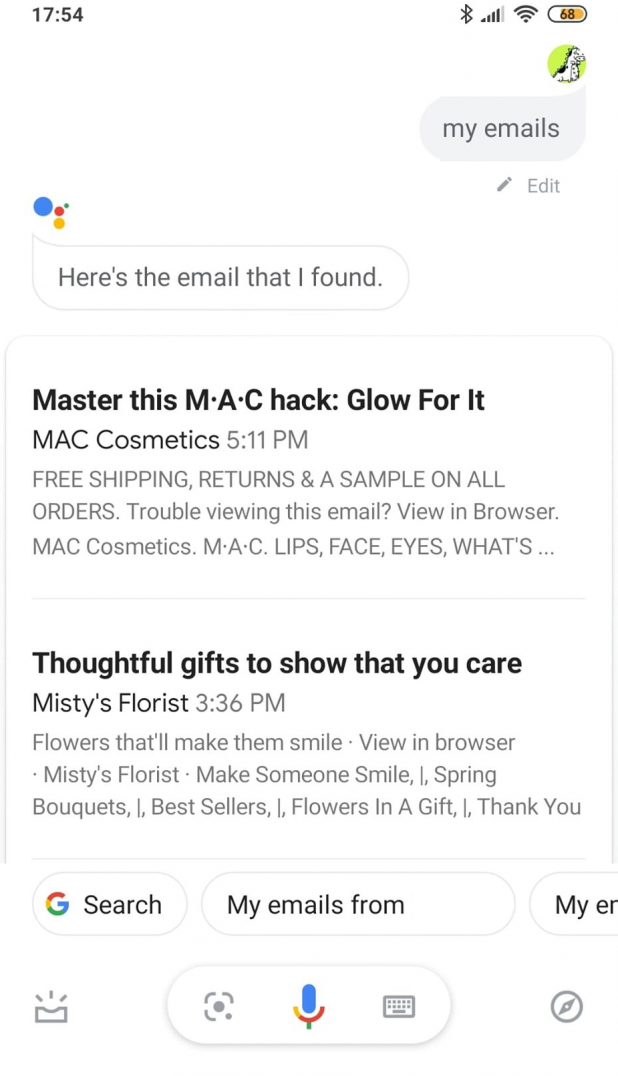 If you have already invested in a great email marketing service, you can create mobile-friendly emails to boost your business in fantastic ways.
If not, you can always take advantage of the best free email marketing services to create responsive emails and combine them with voice search for higher engagement rates.
2. Voice Search is Always Accessible
The rise of the mobile device has allowed numerous businesses to come up with exceptional strategies.
More specifically, businesses can expect that their audience already has a mobile device that they'll use to check social media, search for information, and open emails.
Brands have grabbed this opportunity to design the perfect social media, email, and SMS marketing strategies to increase their traffic and boost conversions.
In a study by Brightlocal, data showed that many consumers have used voice search in the last 12 months to search for local businesses. 
With 56% of participants claiming that they've used a smartphone to do so, voice search and mobile are two forces to expand your growth.
Mobile devices have enabled businesses to engage with their customers whenever and wherever they are.
So, restructuring your content for voice search optimization will give you better visibility, conversions, and more profit.
3. Voice Search is More Convenient
The rise in voice search has to do with the old proverb "time is money."
As consumers become busier, they need easy and fast solutions to cover their needs. 
Even though typing a simple search query doesn't require much time, if it comes to long-tail keywords, consumers might not want to search manually.
That's where their trustworthy voice assistant comes in to provide a suitable answer, quickly and easily.
As data shows, consumers also prefer voice search because it's fast, requires no typing, and the answers are read out loud.
Convenience plays a major role in delivering high-quality experiences to users. 
So, voice search can be an incredible weapon to help your target audience find what they're looking for in a couple of seconds.
4. Voice Search Feels More Personal
While your digital voice assistants aren't real people, when users engage with them, they usually treat them as if they were indeed real.
A simple example comes from users' tendency to ask their voice assistants things like "Hey Siri, how can I boil an egg?" or "Hey Alexa, I want to have sushi!"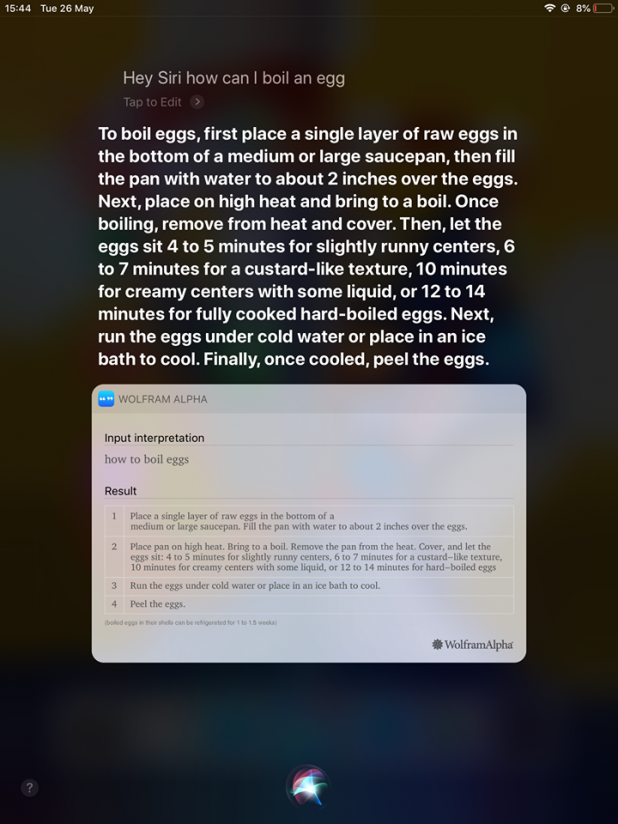 By adding the name of the voice assistant, users feel like they are having a conversation with a person. Some will even thank the assistant for showing them the best result. 
This shows how much users consider this type of technology as a vital part of their everyday lives.
Using voice search and optimizing your content for it will allow you to promote your business in a way that will feel natural to your audience.
However, to enjoy the benefits of voice search you need some tips to get started.
4 Simple Tips to Get Started with Voice Search Optimization
1. Use Google My Business Listings
The best way to let your audience know about your business is to create a Google My Business listing.
Google My Business will give your customers all the necessary information they need to find and engage with your business.
What's more, having a listing will help you improve your local SEO and rank for the popular "near me" keyword.
Here's an example: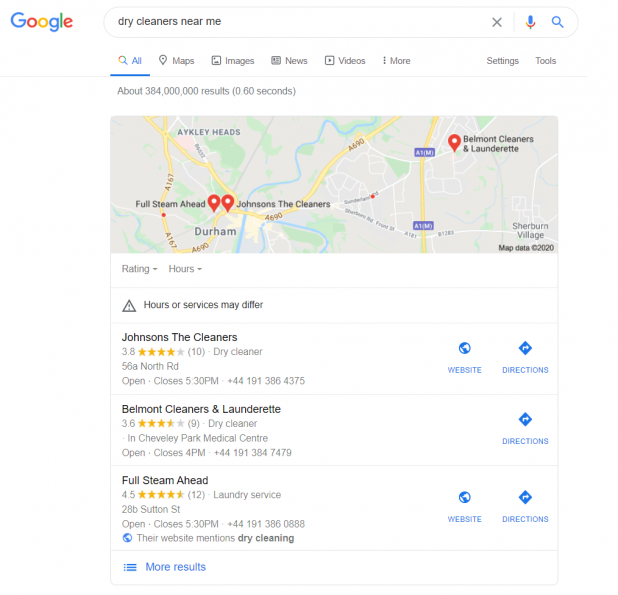 These are the same results that Google Assistant will show you when you voice search the keyword "dry cleaners near me."
2. Increase Your Content Readability Score
Readability can influence your voice search optimization more than you think.
That's because search engines will look for well-written pieces of content that best match the user's query. 
According to a study by SEMrush that analyzed the readability score of various voice search results, it was found that the answers were simple with a reading level of 8. 
 Increasing your readability score is the first step to voice search optimization. 
To get better results with voice search optimization, however, you should also restructure your content to make it as simple and readable as possible.
3. Target Long-Tail Keywords
When it comes to keywords, we distinguish between short-tail and long-tail keywords.
Short-tail keywords usually are between one to two words and have a high cost and a lot of competition.
For instance, the short-tail keyword "shoes" is more generic and consequently more difficult to target.
On the other hand, long-tail keywords are more descriptive and have a higher conversion rate.
Targeting them will help you create a more efficient eCommerce marketing strategy that will benefit from voice search optimization.
For example, the long-tail keyword "black men's road running shoes" will narrow down search engine results.
Apart from targeting keywords, you can also improve your ranking with Semantic SEO, a tactic that focuses on optimizing your content around a particular topic.
That way, voice search will be able to show your audience results that not only have keyword but semantic relevancy as well. 
4. Improve Your Website Loading Time
A slow-loading website will not only seem unprofessional but will also discourage your visitors and push them away.
To show you the importance of speed, in 2018 Google announced that page speed would be a ranking factor for all mobile searches.
Since consumers using voice search want fast results and solutions, a slow loading website won't offer them what they need.
Boosting your speed will allow voice search engines to use your content more frequently and offer great user experiences.
If your website isn't loading fast enough, it's time to fix your page speed to nail voice search optimization and reach greater heights.
Takeaway
Voice search is and will continue to be relevant for years to come. The busier our lives get, the more we'll look for faster and easier solutions. That's why you need to consider voice search optimization when it comes to building an efficient strategy.
As technology evolves and voice assistants become smarter and more accurate, consumers will use them to find information and save valuable time.
Optimizing your business for voice search will help you increase your engagement, boost conversions, and target your audience in ways you can't imagine. So, learn about the benefits of voice search and follow these tips to optimize your business for the future.