Both SEO and PPC help businesses boost traffic to their websites. You can either build traffic for free by trying to achieve higher rankings in organic search results or pay for traffic by running a PPC advertising campaign.
It is very difficult to determine which would be a better option for a business, as both seo and ppc are game changers for a business. The main and important difference between seo and ppc is "Traffic", the traffic coming from SEO is free while the traffic generated from PPC is not free, it's paid. First, let's understand SEO & PPC in detail.
What Is SEO?
SEO stands for search engine optimization and is the process of improving the visibility of a web page on organic search engine (SERPs) results pages. With SEO services, a website can anticipate better rankings, organic web traffic and more business opportunities. There are a variety of SEO activities such as on page seo, link building, website optimization, seo friendly content etc. Which can help in improving the rankings of a website.
What Is PPC?
PPC is an acronym for Pay Per Click and is a viable method of driving visitors/ customers to your website. As the name suggests, you pay each time when someone clicks your ad on Google and comes to your website. With PPC, advertisers can target web visitors with relevant ads when people search for products and services that are related to your business. Basically, it is a method for buying visits to your site, as opposed to striving to "win" these visits organically.
PPC is used for all kinds of campaign goals, including:
Increasing sales
Generating leads
Promoting brand awareness
Which Is Better: SEO or PPC?
Both are powerful and effective techniques for driving traffic to a website. But it's difficult to determine which method would be the best for your business. If you're a local or small business with less competition then you can rely on SEO services only, you don't have to go for PPC services then. However, if your business is having high competition and you have to compete with big brands then you can't depend on just SEO services. You have to take PPC services also.
For example if you search for the "Best IVF Centre in Gurgaon", you will see a number of paid as well as free listings. With the help of this image, you can differentiate between SEO and PPC ads.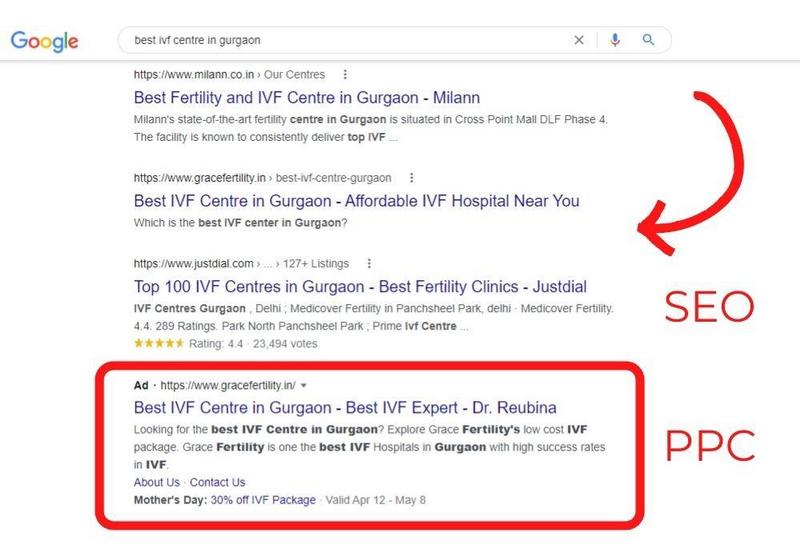 Let's understand this more in detail
How Is SEO Beneficial to a Business?
In today's competitive world, SEO is very important for every business. If you have a website or blog page, SEO services can help your business to grow and meet the business goals.
Millions of people are searching for your products and services on search engines.
SEO is good for business visibility.
SEO brings organic traffic to your website which is more likely to convert
Better conversion rates
Helps to improve trust and credibility
Good for business branding and awareness
Your competitors are using SEO services for their business growth
SEO can improve the value of your business and can bring you more genuine leads and customers
How Long Does It Take to Rank?
SEO is an investment which requires maintenance and ongoing attention to sustain the results. Some websites begin to rank in just 2 weeks if their keywords competition is low. While others report it to take as long as 6-7 months. But, the duration of time it takes depends upon a number of factors, inclusive of the age and authority of your website, if you have any penalties, and if you're aiming for long or short term results.
New websites take little time to rank comparatively older websites due to various reasons like domain authority, number of backlinks etc. However, seo results can be seen within 2-3 months.
How Much Does PPC Marketing Cost?
Well, it's a quite sensible question and one which is asked most of the time especially from newcomers to paid search. After all, the person who is going to spend on adwords is probably most intrigued by the amount they'll be relied upon to spend to advertise on Google, and whether they can even bear the cost of it!
The cost of PPC marketing depends on your industry and what keywords you are targeting. Targeted keywords can be extremely cheap or grossly expensive.
One of the titanic mistakes in launching a PPC campaign is failing to do the proper research before bouncing in.
Basically with SEO, you can get your business listed on the first page of the search engines and with PPC, you can get your ad on the first page by paying higher CPC (Cost per click).
You have to include both SEO and PPC in your internet marketing campaign. PPC can get you quicker results and so you can run a PPC campaign and test which keywords are getting you maximum traffic and conversions and then you can try with SEO to rank for those keywords.